Scott Robbins Physical Therapy opened in April 2012 and has served as the premiere choice for physical and occupational therapy in Vicksburg, MS ever since.
Phone: (601)456-0159  Fax: (601)863-8505
Named best Physical Therapist in 2012, 2013, 2014, 2015 and 2016 by the readers of The Vicksburg Post
Employs a qualified staff that prides itself in bringing evidence into practice.
Provider of choice in the evaluation and treatment of movement dysfunction of the musculoskeletal system.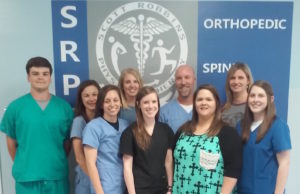 SRPT staff from left to right:
Back row: Sean Johnson, Technician, Melissa Smithhart, PTA, Larina Mason, PT, Scott Robbins, DPT Beth Magee, OTR/L,
Front Row: Trisha Addison, DPT, Samantha Klein, Aleah Lick, Office Manager/Billing, Megan Brown, DPT  not pictured:  Rhett Bloodworth, Technician